The Best Time to Perform Umrah in 2020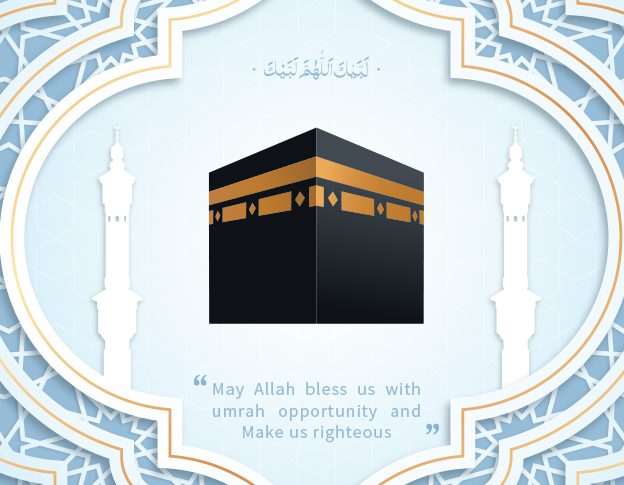 The best part about the pilgrimage of Umrah is that it can be performed throughout the year only except during the week of Hajj.
What if I tell you that there is a time in a year when you get a reward of a Hajj by performing an Umrah.
The Holy Pilgrimage of Hajj and Umrah are both full of blessings and rewards. It is obligatory for every Muslim to performs Hajj or Umrah at least once in their lifetime. Umrah is also one of the greatest sunnah of our beloved Prophet Muhammad (Peace be upon him) and he had performed 4 Umrahs during his lifetime.
Find out more about the Umrah packages offered by Al-Khalid here, and now, let's find out the best time for you to perform Umrah.
The Month of Ramzan:
Ramzan is the best month of the year for every Muslim to perform Umrah. The one who performs Umrah during the holy month of Ramzan gets numerous rewards.
Prophet Muhammad (Peace be upon him) said:
"When Ramzan comes, go for 'Umrah, for 'Umrah in (that month) is equivalent to Hajj." (SubhanAllah). Al-Bukhaari (1782) and Muslim (1256).
Muslims from all around the world wish to perform Umrah during the month of Ramzan due to the significance of this holy month.
Ramzan is a blessing from Allah (Subhanahu Wa ta'ala) to the Muslim community and whatever good deeds you perform during this month gets multiplied by 70 times.
Umrah during the month of Ramzan holds great importance and benefits because you perform the Umrah while fasting and this deed is most loved by Allah (Subhanahu Wa ta'ala).
Recite the Holy Quran, "worship ardently, pray and ask for forgiveness from Allah (Subhanahu Wa ta'ala) and all of your deeds will be paid off well during Ramzan.
Book your Umrah Packages for Ramzan 2020 with Al-Khalid.
If you are looking for an early Umrah this year, make sure you check out Al-Khalid's Umrah Packages for January 2020.

The Grand Months:
After Ramzan, the best times of the year to perform Umrah are the grand months of Islam which comes after the month of Ramzan.
The month of Muharram and Safar are considered as the grand months, performing Umrah during these months are significantly great.
We all know that Umrah is not only about traveling and returning back home rather Umrah requires you to be absolutely focused during the whole sacred journey. You need to devote to Allah (Subhanahu Wa ta'ala). You need to submit yourself and worship wholeheartedly during your Umrah visit and the month of Muharram and Safar are considered great months for worshipping.
Allah (Subhanahu Wa ta'ala) immensely love that person who makes sincere efforts to worship during these two holy months. Another good reason to perform Umrah during the grand months is that the crowd and rush get low and you can get the best hotels and accommodations at reasonable rates. Check out Muharram and Safar Umrah Packages offered by Al-Khalid and perform your Umrah and its rituals correctly without any hassle.
Spring Time:
The weather in Saudi Arabia is very extreme. During the day time, it remains hot and humid while the nights are very cold. The best season for performing Umrah is the spring season when the climate is considered to be the best in Saudi Arabia.
Visting for Umrah during the mild weather can be a very good option because it makes it easier for you to perform all the Umrah rituals.
Al-Khalid arranges thousands of Umrah packages throughout the year so make sure you reach out to us and book your Umrah Package for the spring season of 2020.
Vacations:
A lot of Muslims prefer to perform Ummrah with their families. Holidays and vacations can be the best time of the year if you are planning for an Umrah with your family members.
It might be possible that you can get a little bit of crowd during this time of the year because millions of families visit for Umrah each year.
Peacefully performing Umrah with your family, friends and near once can be like a blessing for you and if you already have a plan to perform Umrah with your family, we also offer Umrah packages for families in which you get world-class accommodations and facilities at extremely reasonable prices.
The best time to perform the holy pilgrimage of Umrah is right exactly when you make pure and clear intentions. There is no absolute time to visit Umrah anymore, in fact, every year it gets even busier form its previous year.
This is the reason why instead of looking for the best time and the best price you should focus more on performing an Umrah which pleases our Almighty the most.
If you already have an intention of Umrah, then the best time for doing it is right now. Book your Umrah Package with Al-Khalid and visit the blessed journey of Makkah and Madinah with complete excellence. See Al-Khalid's January Umrah Packages here.