Fulfill These Conditions to Attain Hajj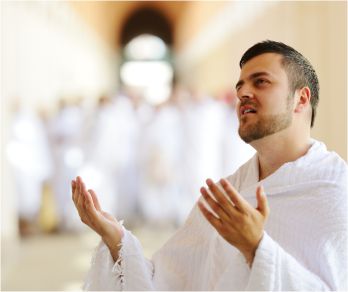 CONDITIONS OF ACCOMPLISHMENT
Secure Routes – If due to various circumstances, the route turns out to be unsafe and dangerous then you are not obliged to start Hajj.
Maĥram is compulsory for Women: According to Islamic Law, a male member of the family should accompany the woman if she decides to perform Hajj as the journey is more than three days and more than 92 Kms. The condition is irrespective of age.
Women shouldn't be in `Iddat: If a woman is her waiting period after death of her husband or divorce, she is not suppose to start Hajj.
Free from all restrains: A person who is under any kind of restrain by the ruler or is imprisoned for his crime, then he may postpone his Hajj.
Bahaar-e- Ĥajj 21
FARAAIDH OF ĤAJJ
 There are some special obligatory acts that one needs to take up for Hajj. Every act needs to be fulfilled for the Hajj to be successful. If you are going for Hajj for the first time, then please read through the following obligatory acts in Ĥajj:
Iĥraam: You cannot perform Hajj in your daily clothes; you are obliged to wear the distinctive garb as prescribed. It is the vital condition of Ĥajj.
Wuqoof-e-`Arfah: To remain present in `Arafaat at least for some time between Zawaal of 9th of Dhul-Ĥijjah and dawn of 10th of Dhul-Ĥijjah. It is a Rukn of Ĥajj.
Major part of Ţawaaf-e-Ziyaarat: That is four or more rounds of Ţawaaf-e- Ziyaarat. It is also one Rukn of Ĥajj.
Niyyat: It is important to have a firm intention in the mind to go for Hajj. If the intention is swayed away by doubts then it is not acceptable.
Sequence: It is obligatory to follow prescribed sequence. First is to enter in the Iĥraam, then to do Wuqoof followed by Ţawaaf-e-Ziyaarat.
Time: Each act must be performed on the prescribed timings.
Place: Each act must be performed on the prescribed places.