EID AL ADHA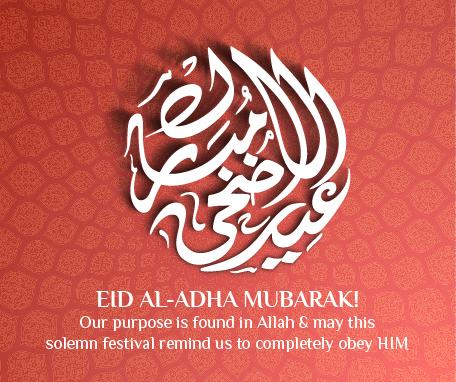 Reading this could help you gain an in depth understanding of the religious significance behind the sacrificing of a goat every Eid al Adha. The meaning of the Arabic word Eid is festival. The other Eid is Eid al Adha which is slowly approaching and is called as the Greater Eid or the Festival of Sacrifice.
This Festival is forever ingrained in man's memory right from the time Allah had rewarded Ibrahim (A.S.) for his complete obedience and submission. Chronologically speaking, at the end of the holy season of Hajj or according to the lunar calendar, Eid takes place in the first few days of the last month of the Islamic calendar.
Ibrahim's (A.S.) willingness and devotion to Allah knew no bounds and this were reflected in his decision to give up his only son as a sacrifice at one word of Allah. This was a test for Ibrahim (A.S.) given by Allah to judge how strong he was in his faith. As a reward for his complete obedience, Allah miraculously replaced his son with a ram for sacrifice instead. This was only one of the many occasions when Ibrahim (A.S.) succeeded in proving his faith. Through it all, Allah was given highest priority and was treasured more than anything by Ibrahim (A.S.).
To commemorate such a holy relationship, people on every Eid al Adha sacrifice an animal. Even on their Hajj pilgrimage, people venture to sacrifice animals in remembrance of that commitment. Muslims all over the world celebrate this festival and pray relentlessly to replicate the faith that Ibrahim (A.S.) possessed.
All over the world, millions of animals are sacrificed on Eid. During such an act, many remember Allah's mercy on Ibrahim (A.S.) and seek mercy for their ways from Allah in hope that their lives will reflect the glory of Allah.
This Eid, Al Khalid Tours and Travels invites you to celebrate Eid al Adha with the Pilgrim family. At Al Khalid Tours & Travels, we pride ourselves in providing excellent service and focusing only on one goal: to ensure you have the best spiritual journey.