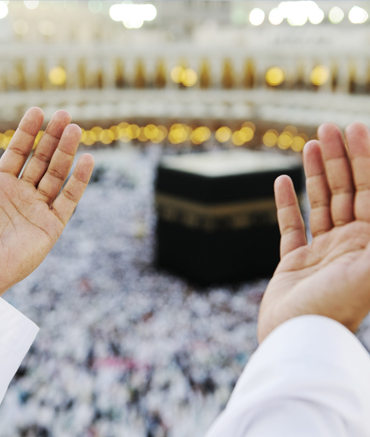 Al Khalid Tours and Travels situated in one of the largest industrial hub of India, Moradabad leads pilgrims to their holy destination for Hajj, Umrah and Ziyarat pilgrimages. Moradabad is known for its extraordinary handicraft brass work that is traded across the world. We are privileged to operate from Moradabad, an extremely popular city for festivals as well.
We exist to provide the most excellent services to all the pilgrims who desire to embark on a spiritual journey for Hajj , Umrah and Ziyarat. In the two decades of service in this industry, we have successfully led lacs of individuals whether singles or families to Allah's home in safety.
Many have the desire to participate in this celestial experience and our packages ensure none be left behind. As per the packages and elaborate facilities our pilgrims are seen to have the benefit of a spiritual journey untainted, in complete sacredness and concentration. So, we bring this opportunity to the people in Moradabad and outside of it at their perfect reach.
Visit the kingdom of Saudi Arabia with the help and assistance of a legitimate source such as Al Khalid Tours and Travels who have witnessed great relations. We hope you choose to embrace a phenomenal experience on the backs of them that wish for your best.